Welcome to our Support Center
How to create a Disposable Temporary Mail in 2023
You can't survive on the internet without an email address. Need to download an ebook? Enter your email. Want to view content on a social forum? Enter your email.
But, you might hesitate before giving your email address you don't know well or trust completely. So, what should you do then?
You can use a disposable email address to view content on such sites. Temporary emails offer you security and anonymity and keep you safe from spam and phishing attacks.
This guide will discuss everything you need to know about disposable emails. Let's dive right in!
What is a temporary (or disposable) email address?
Temporary email addresses are aliases to your real email address that you can use to sign up on different sites, and they are deleted after a certain period. They are also known by other names such as disposable emails, fake emails, anonymous emails, and throwaway emails.
There are two ways to get a temporary email:
Use temporary email generators such as Temp mail, Emailondeck, or 10-minute Mail.
Generate a temporary email using email providers such as Gmail and Outlook.
We will be covering both these ways in more detail later in this guide.
How do disposable email addresses work?
Temp emails work just like regular email addresses. The only difference is
You don't need to share your name, contact number, or any other personal information to get a temp email address.
These emails don't last forever.
In general, temp email providers (which we'll be discussing later) do all the work, including setting up a mail server and DNS record. You need to go to their site and claim your email by only verifying that you're not a robot.
You can paste these email addresses where you want and start receiving emails.
What are the advantages of a temporary email address?
Using a temporary email can offer the following benefits:
✅ Protect you from spam emails
Numerous websites ask for your email address to allow you to act, for instance, downloading an ebook. And even if these sites affirm that they won't use your data or send spam emails, you never know, right? In that case, using such email ids can help you avoid receiving junk emails and keep your inbox clean and spam-free.
✅ Offers security against phishing attacks
Phishing attacks are hard to identify and target users psychologically to steal your private information. By giving out fake email addresses to a different site, you can ensure that even if they sell your data, your privacy is not compromised as that email address doesn't even exist. In this way, you can use these emails when browsing unreliable sites on the internet.
✅Hides your real identity
These emails hide your identity and let you browse the internet and signup to different sites you don't trust completely.
✅ Deleted after a certain time
Every temporary email is deleted after a certain time, depending on which disposable email service you use. Besides, you can manually delete the address if you don't need it anymore.
For instance, Maildrop deletes the email address and inbox content after 48 hours, while 10minutemail destructs them after 10minutes.
Besides, if you get an important email and need to view it later, you can download it to your device within a few clicks.
7 temporary email address providers
If you want to get a free disposable email address, then here are the seven best email providers you can choose from:
1. Temp mail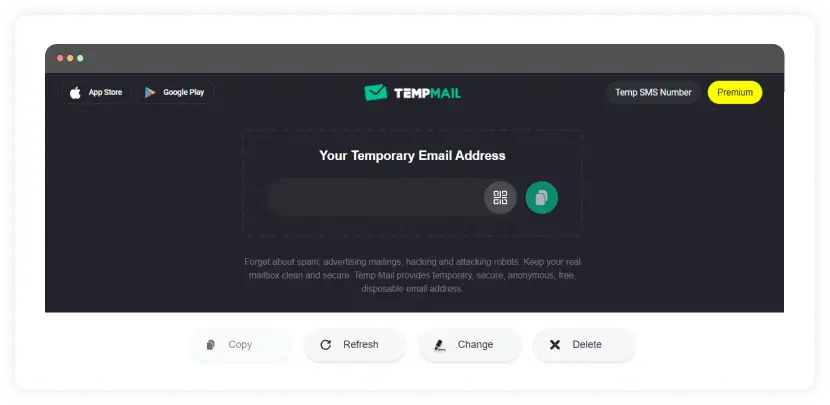 Temp Mail is the best email provider that offers secure and free temporary emails and helps you avoid spam and keep your data safe. In addition, Temp Mail generates a disposable 10-minute mail for you that is self-destructed after 10 minutes.
They also offer a premium plan of $10 per month and $60 if you get a yearly plan, and both of these offer the following features:
Features
Connect your own custom domain.
Can create up to 10 addresses at the same time.
100% private address with full ownership.
Additional 100MB storage for email messages.
Smooth functionality inside a web browser.
Enhanced privacy and security.
Premium support without ads.
2. Guerrilla Mail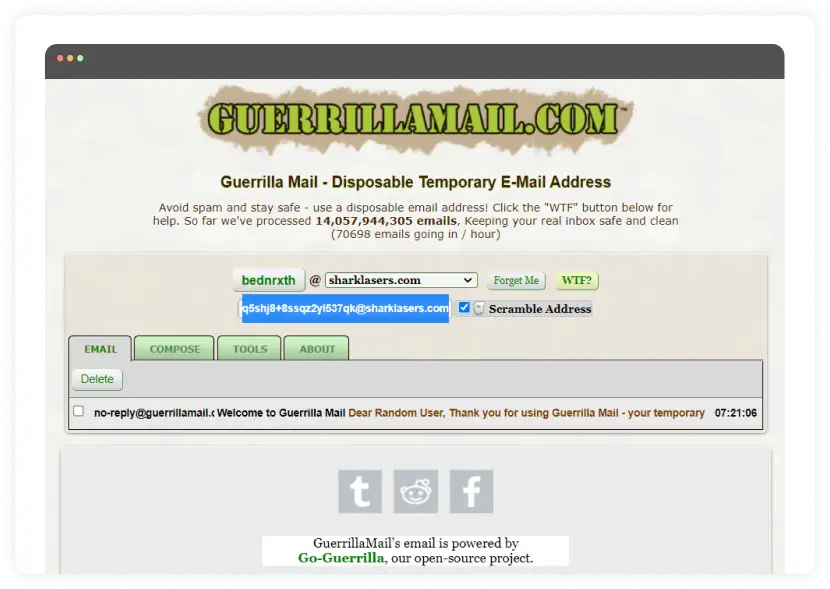 Guerrilla Mail is an easy-to-use fake mail provider that gives you a temporary email address without registration or signup. The moment you visit their home page, a random inbox ID and domain address is created, which you can use. You can customize the inbox ID and choose any domain name.
Features
Temporary emails don't expire until you delete them manually.
All emails are deleted within an hour after getting delivered to your inbox.
Offers scrambled addresses functionality that makes it hard for anyone else to access your inbox ID.
3. 10-minute mail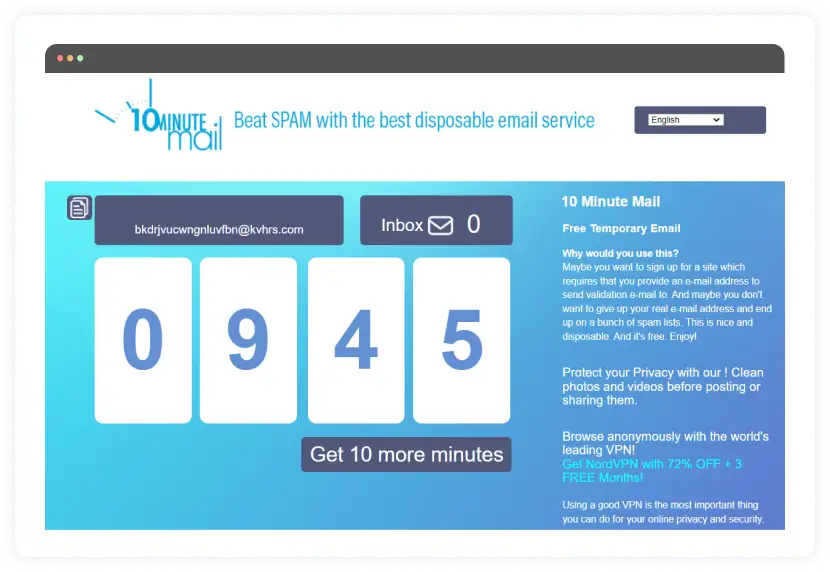 If you need an email only for a few minutes, 10-minute mail should be your go-to tool. You can create disposable emails that last for 10 minutes, and the address and its inbox content self-destruct after 10minutes.
How does it work?
When you need an email id, open a window or tab and go to 10MinuteMail.com.
You will see an email address generated only for you, and only you can see and use that address.
You can copy the email address and use it wherever you want. But, do not close the 10MinuteMail.com window.
If that site sends you an email, it will appear on the 10MinuteMail.com page, under the Messages section.
Once you see the email, you can read it, click on links, or get any information.
When you are done, close the 10MinuteMail.com window, or wait for the 10 minutes to expire. That's it.
Features
You can extend the 10minutes timer if you don't receive an email within a 10-minute timeframe.
Free, secure, and doesn't require any signup.
4. Email on Deck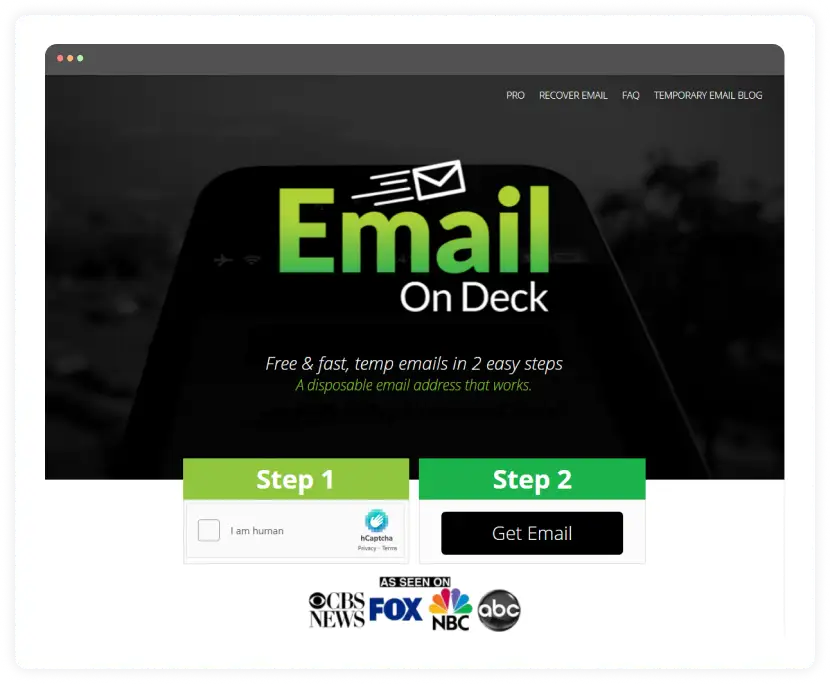 Email on deck is free and easy to use, and you can create a throwaway email in just two steps. You can use this email to do whatever you want, and it will be deleted within a few hours though there is no precise time when it will happen.
With EmailonDeck email, you can send emails to another email on deck user but not anonymously. To send emails anonymously, you need to use EmailonDeck Pro. Besides, you can get multiple emails and keep them for an extended time with the pro version. To get the pro version, you need to pay in Bitcoins.
Features
The data hosting facility is SOC 2 Type II, and PCI-DSS certified.
Wipe out email after a few days and don't offer any backup.
5. YOP Mail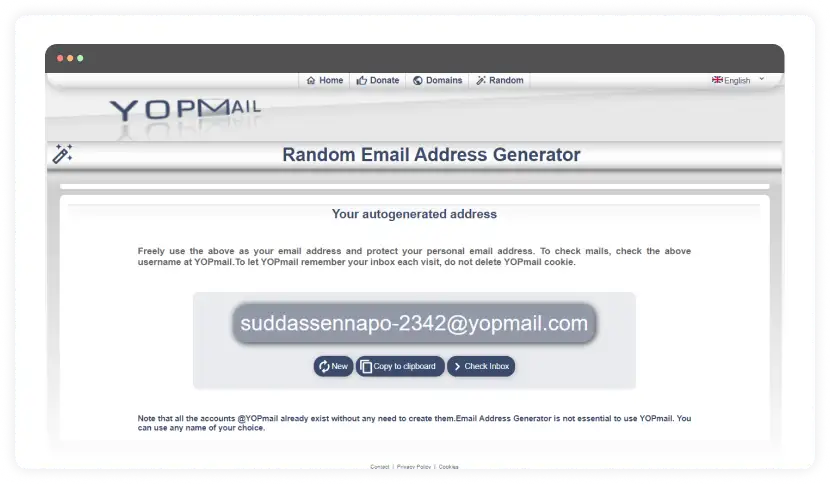 YOP mail is a quick, free, easy-to-use temporary email provider that requires no signup. In addition, YOP mail allows you to choose an alternate domain name in case any site has blocked any of the domains. All the emails sent to these alternate domains will be forwarded to your YOPmail.com domain, and you will check them from there.
Features
All messages are kept for 8 days, and you can manually delete them whenever you want before that time.
Send email to another YOPmail address but not to other domains.
Offers email address suggestions to choose from.
6. ThrowAwayMail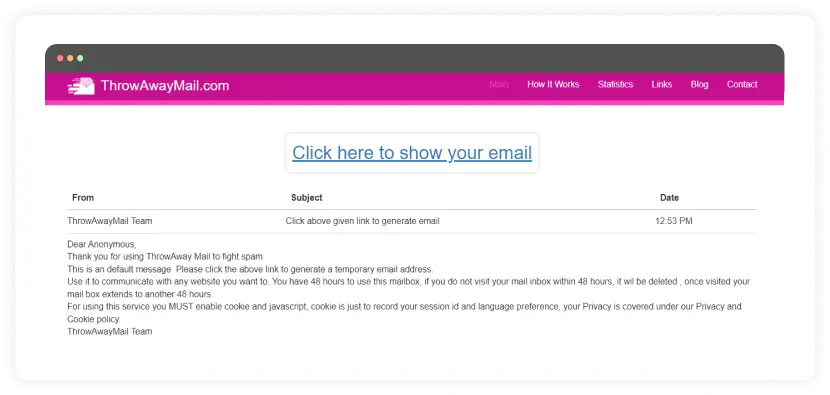 ThrowAwayMail gives you a free email that is self-destructed after 48 hours. It is easy and simple to use. Just go to their website, and a fake email address will be generated that you can use.
Features
Email address and inbox content are deleted after 48 hours.
Easy and simple to use.
Must have cookies and Javascript enabled on your devices to use their services.
7. Maildrop

Maildrop is a free and easy-to-use temporary email generator without signup or registration.
However, there are some limitations to the emails you can receive in the maildrop inbox.
For instance, HTML or plain text email must be less than 500kb in length, and attachments are discarded. So, if you are getting any attachments in your inbox, you can't see them with a Maildrop disposable address.
Features
Powered by spam filters by Heluna, which reduces the spam email reaching your inbox.
If an inbox that doesn't receive an email in 24 hours will be deleted.
Variety of email IDs to choose from.
If you don't want to use these email services, Yahoo and Gmail can help you. You can create custom emails for these email clients in a few easy steps.
How to create a temporary email address in Yahoo Mail?
Note: This feature is available to Yahoo Mail Plus subscribers and users with existing base names and disposable email addresses. Yahoo Mail Plus isn't available in all locales. If the option isn't listed in your account, it's not available.
Follow these steps to create a disposable email address in Outlook:
First, click on the Settings icon and go to More Settings.
Then, click on Mailboxes.
Next to the Disposable email address, click on the Create button.
In the Set base name field, enter an available base name.
Note: Once your base name is set, it can't be changed.
Then, click Next.
You can add a keyword and a description (optional).
Finally, click bold textAll the addresses you create will be structured as basename-keyword@yahoo.com. The basename can only be set once and must be unique—all your addresses will share the same base name.
You are allowed to create up to 500 keywords, giving you up to 500 unique email addresses in your one account.
How to set up a temporary email address in Gmail?
Gmail doesn't allow you to create throwaway email addresses, but you can create a custom email.
Add a dot • or plus sign ➕ in your email before the @ sign to create a new alias.
For example, if your email is Johndoe@gmail.com, you can use another email like John.doe@gmail.com, Jo.hndoe@gmail.com, or Johndoe+work@gmail.com. You can use these new email IDs to organize emails in different folders.
Follow these steps to create a temporary email address in Gmail:
First, click on the Settings icon and go to See all settings.
Then click on Filter and blocked addresses.
Now, click on create a new filter and type your alias email address, e.g., johndoe+newsletter@gmail.com, under the "To" section. Then, click on Create filter.
Now, a screen will pop up. Here you will see many options. It's up to you what you want to do with emails, and you can select multiple options at once.
If you want to forward emails, add the email address to which you want to forward all these emails.
You can put them under a label – Choose existing labels or create a new one. To create a new one, click on New label.
Here, name the label. For example, we named it newsletters to add all newsletters under this label. Then, click on Create.
After creating this label, it will appear in your Gmail's navigation bar from where you can access emails.
Conclusion
Disposable email is a great way to avoid spam and get the information you want. Besides, you can keep your inbox organized by downloading only those messages you want or seem important to you.
The services mentioned above offer you quick and easy-to-use emails, and it's up to you which ones you want to try.
What you should do next
Hey there, thanks for reading till the end. Here are 3 ways we can help you grow your business:
Talk to an email expert. Need someone to take your email marketing to the next level? Mailmodo's experts are here for you. Schedule a 30-minute email consultation. Don't worry, it's on the house.
Send emails that bring higher conversions. Mailmodo is an ESP that helps you to create and send app-like interactive emails with forms, carts, calendars, games, and other widgets for higher conversions. Get started for free.
Get smarter with our email resources. Explore all our knowledge base here and learn about email marketing, marketing strategies, best practices, growth hacks, case studies, templates, and more.