What is Email Infrastructure?
Although the bright side of email marketing is about making sure the message remains in the reader's mind, there's a lot going on beneath it. 
Although the bright side of email marketing is about making sure the message remains in the reader's mind, there's a lot going on beneath it.
There are dozens of moving parts are responsible for email delivery: servers, the domain name system, IP addresses, and more. All of these are known as email infrastructure.
As a rule, marketing teams do not set up the infrastructure on their own, except for technical people for the IT department. Having said that, whether you are a marketing manager or a business owner, an understanding of how all the wheels of the infrastructure machine work together will help you gain insight into campaign performance.
Email Infrastructure
An email infrastructure is a system designed to promote the distribution of all newsletters or transactional emails you send. It typically consists of the following components: IP addresses, mail agents, feedback loops and email reputation management tools.
IP address:
IP addresses are strings of numbers associated with the Domain Name system (DNS). We may use letters (google.com and such) instead of numbers (256.58.217.06) to visit websites.

We have two types of IP addresses: first a dedicated IP address and second a shared one IP address.
A Dedicated IP:

A dedicated IP is one that is assigned only to the domain of your website. Typically, you will have to pay a small fee to use such an address. In return you will get security and freedom.

A Shared IP:

A shared IP is an address that some domains use together.
In email marketing, IP is the biggest part of sender reputation. A hosting provider traces all the actions a business owner takes back to the IP and assigns a reputation score based on these.If you share an IP with other websites, chances are they are not as diligent in following email marketing practices as you are. And since you share an address, you will go down together.
Having no control over your IP reputation can hurt your campaign email delivery rates. This is why it is recommended to use a dedicated IP for bulk email marketing campaigns.
Mail Agents:
A mail agent is a tool that helps in viewing, replying and transferring emails between the sender and the recipient. A typical email infrastructure uses multiple mail agents at different stages of the email's journey.

Mail User Agent:

This is a fancy term for an email client. Be it a software or desktop interface, MUA stores email, allows users to read and reply to messages, delete them or mark them as spam.

Mail Transfer Agent:

It is a tool that implements the email transfer protocol on the server side and client side.

MTA empowers the exchange of emails between the device of a recipient and that of a sender.

Message Delivery Agent:

This component of the architecture accepts an email from the transfer agent and stores it in the reader's environment (inbox). Local Delivery Agent is another common name for MDA.
SMTP Server:
An SMTP server is an application that a chosen email client uses to exchange email between users. Each ark dedicated server provider has a different SMTP address the general form is: smtp.serveraddress.com
For example, Gmail's SMTP is smtp.gmail.com, Outlook's is smtp.outlook.com, and so on.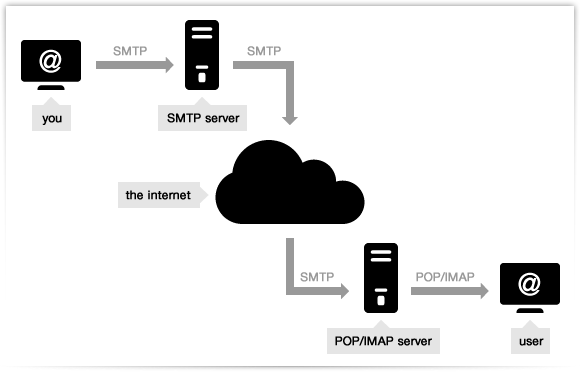 What is the purpose of SMTP server?
In a nutshell, it processes the email data and sends it to the recipient's inbox, validating certain conditions in the process:
If a sender's account is active.
If the recipient address is valid.
Verifying email reputation. If it is lower, SMTP servers may blacklist the email.
If a reader uses an anti-spam filter, there is another reason the SMTP server may fail to deliver email to the target inbox.
Feedback Loop:
The Feedback Loop (FBL) is one of the key processes empowered by the email infrastructure. If a campaign sender sets up a feedback loop, he or she will be able to track how readers have interacted with the email. Similarly, the marketing team may remove poorly engaged customers from the list. To ensure that the content is relevant to the audience as a whole.
To register for FBL, a business owner needs to meet certain conditions:
owns or has administrative privileges on a domain or IP
Have an active @postmaster address associated with the domain
Good email reputation score (fair or higher)
Monitor the feedback loop frequently to assess the relevance of the content you share with customers and to keep the subscriber list clean.
Email Reputation Management Tools:
We maintain a strong engagement with the email audience. The marketing team adds business intelligence and analytics tools to the infrastructure. These solutions help you track conversion and open rates for your emails, automate campaign management, track kPIs, and give you confidence in your campaign's performance.
Marketers typically use email reputation management tools to achieve these goals:
Segmenting the email list
Tracking open rates or engagement
Monitoring email delivery
Tracking IP or domain reputation
What's Your Reaction?